From its inaugural investment until today, our dedicated Corporate Investment Office has taken a responsive, flexible and creative approach to handling the firm's proprietary investments, deploying capital in various sectors and locations around the world.
Generally, we invest in and operate assets in mid and late-stage private or public companies to finance internal growth, acquisitions, management/leveraged buyouts and recapitalisations. Alternatively, we handle fundamentally strong companies undergoing financial restructuring, those in need of short-term liquidity, and investee companies looking for transitional capital in the short-term to fund something specific.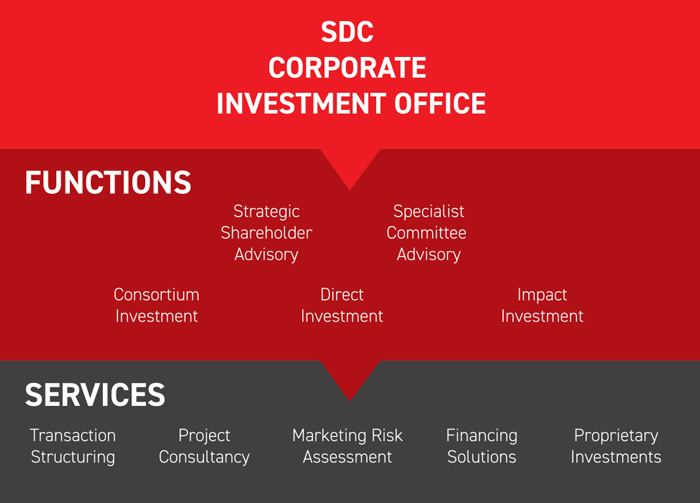 A Strong Investment Philosophy
We assess if an investment will achieve its strategic vision in terms of personnel, growth capital plans, improved operating strategies as well as other goals. This helps to determine whether the anticipated returns are in balance with any associated risks.
Our natural tendency is always toward more tried and tested conservative capital structures, while also balancing each solution to take account of capital preservation. Our thorough due diligence also helps to identify potential complications so that we can mitigate these and other known risks.
Flexible Investment Horizons
Our strategies have a reasonable degree of flexibility and typically target an investment horizon between three and five years. This may also depend on the needs of our investing partners (if applicable) and the nature of the investment. For transitional capital investments, such as bridge financing, a typical horizon will be up to 24 months.
Industry Focused
With ability and expertise to deploy capital in most industries, ours is a particularly strong track record in real estate, energy and infrastructure-related sectors. Our key investment markets are focused in Europe, North America, Africa and Asia.

Management Friendly
We manage the day-to-day operations of our investments and participate, as required, in the strategic development of portfolio companies. That is why we value maintaining strong relationships with management and other financial partners.
A Value-Adding Partner
SDC's investment decisions are based on solid fundamentals. We do however also seek to look beyond that. With our hands-on approach, diverse operating experience and global industry relationships, we aim to nurture investee companies with great potential to fast-track their next stage growth and development. Our objective is always to be a value-adding partner.